Search found 151 matches
Fri May 03, 2019 7:42 pm
Forum: Bluebird Rebuild
Topic: Bluebird Runs 2019
Replies: 91
Views: 31722
Am I allowed to post this link? to a petition? to try & illustrate the popularity of the old girl? https://www.change.org/p/ruskin-museum-coniston-should-bill-smith-be-allowed-to-run-bluebird-this-summer?recruiter=false&utm_source=share_petition&utm_medium=twitter&utm_campaign=psf_combo_share_initia...
Thu Apr 11, 2019 11:06 pm
Forum: Bluebird Rebuild
Replies: 1026
Views: 426401
(As an aside to other topics at the moment) We spent last weekend participating in a Motorcycle sprint, up the driveaway of Hoghton Tower. A grand time was had by all, apart from,maybe, the chap that fell off his BMW! (he was uninjured, as far as we are aware) There was a fair array of bikes, old & ...
Wed Apr 10, 2019 8:52 am
Forum: Bluebird Rebuild
Replies: 1086
Views: 456858
Looking like there will be no Records Week this year -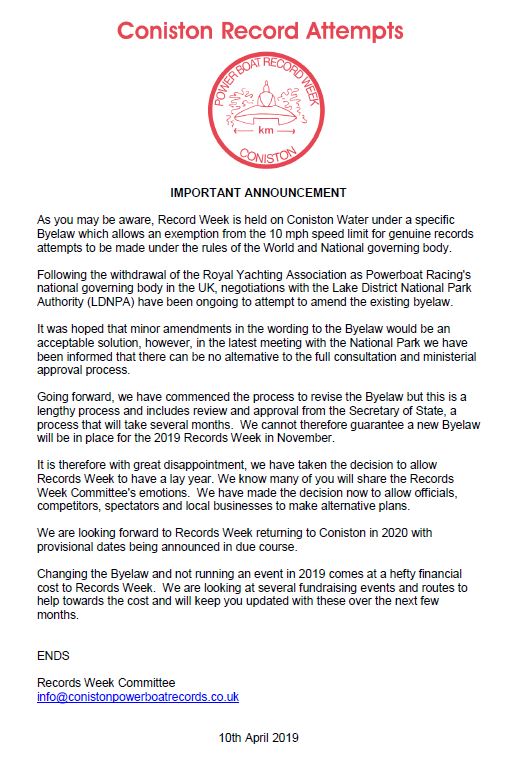 Tue Apr 02, 2019 10:21 pm
Forum: Bluebird Rebuild
Topic: Bluebird Runs 2019
Replies: 91
Views: 31722
Great stuff! Well done everybody!

Yes please! back on water, any water, be nice if if it was Coniston though (it's only half an hour away from me!!)